MYSTERY PACKS
Regular price
$28.00 USD
Sale price
$20.00 USD
Unit price
per
Sale
Sold out
The best way to get more bang for your buck, plus I have a blast creating sticker mystery packs for you! *If you do not want bad words, leave a note at check out.
Share
View full details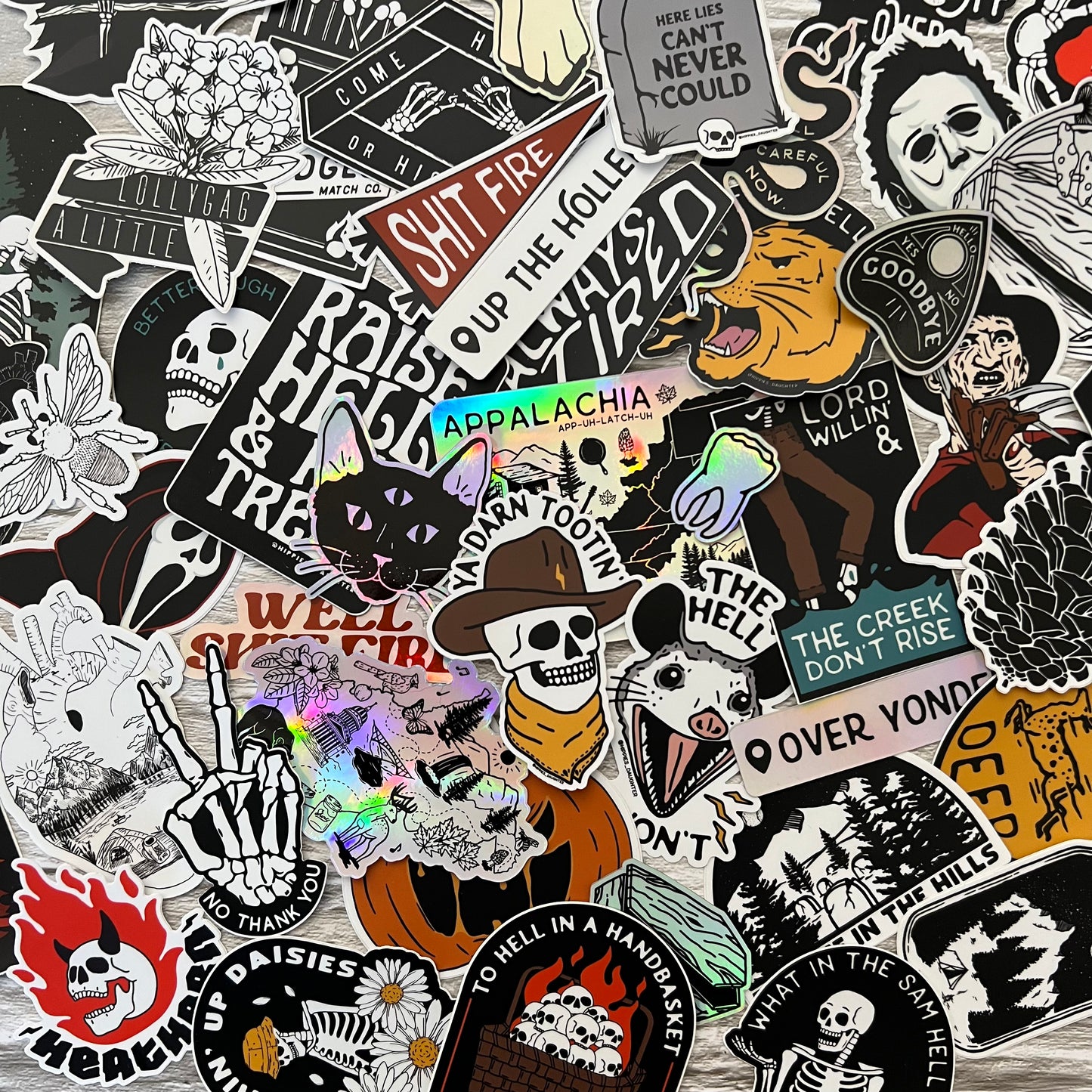 Hippie's Daughter is a little inappropriate but always humorous when taking nostalgic Appalachian sayings and creating fun, original designs to provoke that feeling of home in the mountains with your mamaws and papaws.
Not your average stickers
W A R N I N G : Stickers are easy to apply and hard as hell to remove. These stickers are water and UV resistant so put them wherever you please. *Some stickers may also get you in trouble at work or school, so display with caution.
Behind the brand

Raised down in the valley, up the creek, and in the mountains. Elizabeth is a 5th generation West Virginian raised by a couple Appalachian hippies plus, both her maternal and paternal grandparents. She is the granddaughter of a coal miner, a veteran, the best damn cook that ever lived (also an artist), and a grade school teacher -she pulls inspiration from her family and experiences, while mixing in her unique style. Elizabeth has been exploring art since she was just a little kid making macrame jewelry with her family to painting and drawing away in her sketch books.

The inspiration

Appalachia has such a unique heritage. Its a region full of incredible art, delicious food, and hard working folk from many different walks of life and countries. A lot of Appalachians have been through hell and back; facing a rough economy, job lay-offs, and massive flooding but it only seems to make us stronger. Hippie's Daughter pulls from her upbringing in the heart of Appalachia, aka West Virginia, to create designs that show case the many Appalachian sayings she's heard her entire life.
The most nostalgic keychains
What's more nostalgic than motel tags and macrame?
Y'all come back now!
& WATCH FOR DEER OUT THERE